Starting the Keto Diet and don't know where to find the best keto snacks?
It's not as hard as you think! We're lucky in Australia to have a great range of fresh and packaged food options, with more and more keto snack options becoming available each month. Now, you can just stroll down to your local Coles or Woolworths supermarket to get stocked up on healthy, delicious and KETO snacks to fuel your day.
The Keto Diet – all you need to know in under 60 seconds
But first, it might be a good idea to go over the basics of the "Keto" diet and what makes a great Keto snack.
In a nutshell, the "Keto diet" is based on the premise that your body can be optimised to burn fat as a key energy source instead of sugar (via carbs). Common diets are based around consumption of carbs. Foods which are high in carbs are the most efficient to convert into energy straight away (e.g. that big chunk of bread or energy bar), but when you don't use that energy through physical activity, these carbs convert to fat.
Advocates of the diet report weight loss, improved energy, and better focus. However, always ask your dietitian or nutritionist for their advice and recommendations before making any significant changes to your diet. What may work for one person may not work for you!
On the flip side, the Keto diet proposes that when you lower your intake of carbs, your body will seek an alternate energy source: fat. In burning stored fat, your body will eventually enter a metabolic state called "ketosis" (hence the name), in which your body releases ketones that enter your bloodstream (instead of insulin from glucose-rich foods like carbs), and provide energy to your body and brain. The Keto diet is also known as the Low Carb, High Fat diet ("LCHF" diet).
What makes a good Keto snack?
People that follow the Keto diet seek a diet that is high in fat, has moderate protein, and low in carbs. In practice, it's all about optimising your macros and nutrition, and being aware of what you are eating each day.
So what does a diet like this look like on a day-to-day level? As I've shared before, I'm a 75kg dad who does some exercise most days of the week. According to this Keto Diet calculator, I should be eating approximately 2,300 calories per day (~9,650kJ). Ideally, my diet would consist of me consuming 188g of fat, 113g of protein and 28g of Carbs. As you can see, most of the energy I consume would come from fat, with very little carbs over the course of the day.
So, following from the above, a suitable Keto snack is rich in fat, with good amounts of protein, and few carbs.
As a general rule, you'll want to eat more of these foods:
Raw nuts and seeds
Healthy fats and oils
Good quality, pasture-raised meats
Fruits that are low in sugar
Non-starchy vegetables
And avoid:
Sugar
Grains/wheat
Poor quality, highly-processed oils
Starchy vegetables
High-sugar fruit
What are some examples of Keto snacks at Coles & Woolworths?
So now that you know the basics, you're probably wondering what are the best Keto snacks around – and where can you find them?
These days there are several great online Keto/LCHF specific retailers that sell and deliver only the best Keto snacks straight to your door. So read no further if that's your plan! (and shout out to our friends at Low Carb Emporium and OnKeto!).
However, if you'd prefer to find tasty keto snacks during your normal Coles/Woolworths shopping run – keep reading! We've listed below our favourite, ready-to-go keto snacks that you can find at Coles or Woolworths supermarkets, so you don't have to waste time looking for them!
(Side note: we haven't listed grocery staples like eggs, meat, butter, veg, etc. – instead, our focus here is just ready-made snacks. But that doesn't mean that they can't be awesome, whole food snacks!)
Now if you want to read more about the keto snacks on our list, keep reading below!
Keto Cheese
Cheese can be a great keto snack, as it's generally high in fat and low in carbs. We recommend avoiding cheese varieties that have added sugar or labelled as "low fat".
Ashgrove Havarti infused with bacon
This is a yummy cheese – and did we mention it has bacon?! With only 0.1g carbs but 6.1g of fat, this is a winner. And, bacon.
La Casa Del Formaggio – Cherry Bocconcini
Bocconcini goes well with almost anything – with a drizzle of extra virgin olive oil and balsamic vinegar, on a salad, and especially on a low-carb pizza base. This product is a good pick as it's fairly priced, tastes great, and has virtually no carbs. Instead, each serving contains 8.5g of protein and 8.8g of fat, with less than 1g of carbs.
Babybel Mini Cheese Portions
For something quick and easy, it doesn't get better than the cheese of your childhood: Babybel. Each cheese portion is high in fat and protein (4.8g / 4.6g respectively), with virtually no carbs.
Miguel Maestre Manchego Cheese (Aged 6 months)
This keto snack pick is definitely on the pricier end of things, but if you're into hard cheeses, then it's hard to go past Manchego. A Spanish cheese variety similar to Parmesan but made from sheep's milk, it's a keto snack knock-out: no carbs but 10.5g fat and 6.8g protein per serving.
Keto nuts & nut butters
Mayver's Crunchy Peanut Butter
Who doesn't love a good spoonful of PB as an in-between-meals snack!? Unlike some nut butters on the market, which have added vegetable oils and fillers, this only has Peanuts and Salt as ingredients. It has 9.8g of fat and 5g of protein per serving, with a moderate 2.7g of carbs.
Macro Natural Almond, Brazil & Cashew Spread
For something a bit different, you can't go wrong with some ABC butter. The chief downside to this product is the price – it ain't cheap. Each serving contains 5.8g of fat, 2.1g of protein and 0.9g of carbs.
Macro Organic Unhulled Tahini Spread
If you've never bought Tahini before, there's a really good chance you've already eaten it in one shape or form. It's the chief ingredient to hummus – which is pretty much the king of all dips – and you might have even had it as one of the sauces in that late night kebab!
Tahini is made from sesame seeds and comes in two varities. We prefer the 'unhulled' version over the 'hulled', which because the shell of the seeds is not removed, it's higher in calcium and fibre.
You can also drizzle it over a salad, add it keto-friendly deserts, or put it in your smoothie for a protein and fat kick. And are you thinking what I'm thinking B1? I think I am B2. Keto fat bombs! (Here's a recipe).
Each serving (or tablespoon) contains 12.3g of fat, 4.4g of protein and only 2.3g of carbs.
Keto meat snacks
Gold Medal Snacks Pork Krackles
It's no secret that pork crackle (known also as pork rinds) is a favourite keto snack amongst dedicated keto and low carb followers. While we're not big fans of some of the added ingredients (e.g. Hydrolysed Soy Protein and flavour enhancers), it does have awesome keto macros: 35.9g of protein and 14.9g of fat per bag, with almost zero carbs.
[UPDATED!] J. Crackleton Original Real Pork Crackle
We're excited that this awesome new Pork Crackle product has just hit the shelves at Woolworths. It's light, crunchy and made with 100% real Australian pork – and it's Gluten-free! And unlike some of the other traditional brands out there, the ingredient list is much shorter. Each 40g bag contains 20.8g of protein and 18.2g of fat, with virtually zero carbs.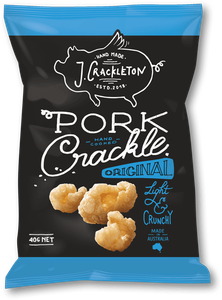 Don Donskis Mild
Twiggy sticks are the old-fashioned snack of your childhood, but they can actually also be a satisfying and convenient keto snack. This one doesn't need refrigeration so you can eat it on the road. There are two servings per pack, with each containing 7.7g of fat and 4.9g of protein – and only 1.5g of carbs.
KOOEE! Grass-fed Beef Jerky
Yeah you knew this was coming, we never miss a chance for a shameless plug!
Beef jerky is actually a great keto snack – if made with care and with good quality ingredients. As we've mentioned before in a previous post, there are a bunch of beef jerky brands in the market, with some brands being very suitable as a keto snack, and some, – well – being less so.
Generally, beef jerky can be a great keto snack because it's high in protein and often very low in carbs. However, jerky is often low in fat as it's made from relatively lean cuts of beef (such as topside). That being said, due to the low carbs, it's often a go-to keto snack – and KOOEE! is often chosen due to the clean ingredients, portion-controlled bags, and macro profile.
What's more, you can now find us in Tasmanian and Victorian Woolworths stores, so no excuses!
Our Classic Sea Salt KOOEE! beef jerky has 14.8g of protein, 2.9g of fat, and only 2.7g of carbs in each pack.
If you're suddenly hungry (and can't wait to get to Woolworths), you can buy our keto beef jerky here at our shop.
And because you're here, you can use the code "KETOSNACK" to get an additional 5% off your entire order! (this includes free shipping, which is always nice.)
Canned fish
Sirena Tuna In Oil – Italian Style
There's only one canned tuna brand listed here – and according to my co-founder Andy it's the only one that matters. He has the entire KOOEE! team hooked on the "yellow can" – Sirena Tuna. On quiet days Andy has even sent them fan mail.
From a keto perspective, it ranks strongly given there is absolutely zero carbs per can (!), with 16.8g of protein and 4.9g of fat.
King Oscar Sardines – Olive Oil Double Layer
Sardines are a great alternative to canned tuna. However, if you're like the majority of the population, chances are you can't stand them – they smell more, have a much stronger taste and you eat the bones. So why even eat them?
For starters, they are highly nutritious. Sardines are packed with Omega-3s, Selenium (for thyroid and adrenal health), Vitamin D, and Calcium (cause of dem bones!). They're high in protein, high in fat, and have no carbs. And even better, because sardines are a small fish, they have a much lower contamination risk from mercury and other heavy metals when compared to larger fish like tuna.
We like the King Oscar brand because they use wild-caught Brisling Sardines – the smallest and most delicate sardines you can find. And because of this, they're tastier than other brands too.
Each can contains 2 servings, with each serving 7.4g of protein, 8.4g of fat and only 0.3g of carbs.
Biscuits and crackers
Olina's Gluten Free Crackers – Pepita Seed
We love the crunch in these crackers. Super "moreish" – and they go great with a slice of cheese (see above!). Despite the price tag, they're also a great keto snack, being very low carbs.
Always Fresh Cheese Crisps
Snackable cheese! Made from nothing but oven-baked cheese, they're a crunchy keto snack more akin to a biscuit than cheese (and why we've put it in this category)! Each pack only has 2.9g of carbs, along with 10.6g of protein and 8.7g of fat.
If you're looking for other crunchy cheese options, you can't go past Ashgrove Cheese's "Amazeballs" – available from IGA's nationwide.
Sweet treats
Lindt Excellence Supreme – Dark Chocolate 90% Cocoa
If you still want to indulge your sweet tooth, we recommend finding a high-percentage, good-quality dark chocolate. If you're new to dark chocolate – don't worry, it takes time to appreciate it. But once you do, you'll begin to really enjoy the complexities of different chocolate – a bit like tasting good coffee. And with that, say goodbye to those sugar cravings!
If you're shopping at Woolworths, then we recommend starting with the Lindt 90% Cocoa variety. Each 20g serving contains 11g of fat, 2g of protein, and 2.8g of carbs.
Well Naturally – No Sugar Added Bar – Rich Dark
If you're concerned about the added sugar in regular chocolate, then we suggest this Australian brand that is sweetened by stevia. Well Naturally's Rich Dark flavour is also much more keto-friendly: each serving only contains 0.7g of carbs, while also containing 5.6g of fat and 0.9g of protein.
Tasmania's Westhaven – Natural Coconut Yoghurt
Coconut yoghurt is high in fat due to the coconut milk and generally low carb. In our view, Westhaven is king of coconut yoghurt. We were surprised to find this wonderful product being made nearby in Launceston. If you're living in Tasmania you can find it in Woolworths, and it's available across independent stores in TAS, VIC, and SA. If you live elsewhere you have a choice – either wait for Westhaven to become available, move to Tasmania, or try Coyo instead.
Each serving has 19.6g of fat, 2.7g of protein, and 5.4g carbs.
Chobani Greek Yoghurt – Plain Whole Milk
If coconut yoghurt is not your thing, no biggie. There are plenty of whole-milk yoghurts around that are fairly low in carbs and have good fat content – particularly the Greek yoghurts that have no added sugar. One of our favourite products is the Chobani Greek Yoghurt – Plain Whole Milk. Unlike most of their other products, this one isn't low fat, and it has a deliciously smooth, creamy texture.
Each 100g serving contains 4.0g of fat, 8.7g of protein and 3.9g of carbs.
Noshu Donut – Strawberry
We're all human, right? Sometimes you just need something to pick you up after a long week, and this may be it (without the excessive guilt!).
Noshu donuts may be one of the more indulgent things you can eat on the keto diet, but we love that there are no added sugars and that it is gluten-free. And it's certainly better than most other sweet treats at Woolworths or Coles that you'll find!
Each donut has only 2.8g of carbs, 8.4g of fat and 4g of protein.
The full keto snacks list
For your convenience, we've listed the entire list of keto snacks here:
| Snack | Price | Size per pack | Fat per 100g | Protein per 100g | Carbs per 100g |
| --- | --- | --- | --- | --- | --- |
| Ashgrove Havarti infused with bacon | $7 | 200g | 59.2g | 31.2g | 2.0g |
| La Casa Del Formaggio - Cherry Bocconcini | $5.25 | 220g | 19.9g | 19.2g | 1.6g |
| Babybel Mini Cheese Portions | $4.20 | 100g | 24g | 23g | <1g |
| Miguel Maestre Manchego Cheese | $7 | 150g | 35g | 23g | <0.5g |
| Mayver's Crunchy Peanut Butter | $5 | 375g | 49.3g | 25g | 13.4g |
| Macro Natural Almond, Brazil & Cashew Spread | $8.50 | 250g | 57.6g | 20.8g | 8.9g |
| Macro Organic Unhulled Tahini Spread | $6.49 | 375g | 61.4g | 22.2g | 11.5g |
| Gold Medal Snacks Pork Krackles | $2.15 | 50g | 29.6g | 70.8g | <1g |
| J. Crackleton Real Pork Crackle - Original | $1.80 | 40g | 45.3g | 52.0g | <0.1g |
| Don Donskis – Mild | $3 | 40g | 38.5g | 24.7g | 7.3g |
| KOOEE! Grass-fed Beef Jerky – Classic Sea Salt | $5.95 | 30g | 9.8g | 49.3g | 9.0g |
| Sirena Tuna in Oil | $2.15 | 95g | 7.0g | 24.0g | 0g |
| King Oscar Sardines – Olive Oil | $2.80 | 105g | 21g | 18.4g | 0.8g |
| Olina's Gluten Free Crackers – Pepita Seed | $5 | 100g | 48.2g | 29.4g | 1.2g |
| Always Fresh Cheese Crisps | $3.45 | 24g | 36.2g | 44.1g | 11.9g |
| Lindt Excellence Supreme – Dark Chocolate 90% Cocoa | $4.25 | 100g | 53.4g | 10.8g | 12.5g |
| Well Naturally – No Sugar Added Bar – Rich Dark | $4 | 90g | 43.2g | 6.8g | 5.4g |
| Coyo Organic – Natural | $10 | 500g | 23.7g | 1.5g | 3.4g |
| Westhaven Coconut yoghurt - natural | $3 | 180g | 20.4g | 2.8g | 5.6g |
| Chobani Greek Yoghurt Plain – Whole Milk | $6.30 | 907g | 4.0g | 8.7g | 3.9g |
| Noshu Donut - Strawberry | $3.75 | 45g | 18.7g | 9g | 7.1g |
Can you suggest any other great keto snacks?
We'd love to know what you think about our list, and whether we've left out any other awesome keto snacks that you can find at Woolworths or Coles.
And if you've come to the end of this list and you're hungrier than when you started, you can purchase our beef jerky right here. Free shipping too, so why go to a shop?
Keen for some beef jerky? Shop now.